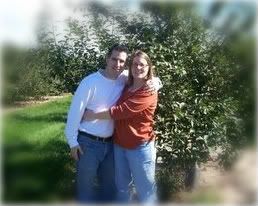 I'll start with my husband, Chris. I'm not sure what I ever did that was so good to deserve this man, but boy am I ever greatful. I met Chris after I was divorced from my boys dad. We worked together & we were friends. We were not, under any circumstances, going to get involved. I was a divorced mother of 2 young boys & he was a bachelor with a varied group of friends & an eclectic, exciting life. I chased him like a dog. He is the most caring, giving person I know. He is one of those people who is just truly good. He has taught me that life is about the journey.
Now I must also tell you that we had to get married. Not because of what you may be thinking, but because we happen to share the lamest sense of humor ever. We crack each other up while others just look at us with confused looks on our faces.
At 16 JD stands about 6 foot tall & love music & movies. School work not so much. John has been involved in our church for about 5 years. He is actually the one that got us into the church. He has been on the youth ministry team for about 4 years and also attends a second church youth group on Wednesday nights. Sarcasm drips from this child's pores & he reminds me daily that I could not possibly know the answer to anything. *insert eye roll*
This is a picture of Jack's feet. Jack is 13 & will only wear Converse High Tops. Jack is my baby who immediately upon turning 13 became a teenager. He then gave himself permission to act like a teenager & try to shock me as much as possible. He got his height from his father & my father. Let's just say that unlike JD, Jack is compact. Jack is also involved in the youth group at our church & he is the peacemaker. He wants everybody to be happy & will probably give himself an ulcer trying to accomplish. While JD sometimes hovers around like a black raincloud of teen angst, Jack is sunshiney & kind. For now.
This is Oskar. He is a miniature schnauzer & he is in charge around here, just ask him. He is quite sassy & has saved us from rouge grocery bags attempting to charge the house on many occasions. He is also in charge of the landscaping of our back yard. He is an expert at putting holes in the perfect spot to step in and twist your ankle.
Here's Chloe. She's our calico cat & she is technically obese. I'm not judging, I have a few lbs. to lose myself, but the vet was alarmed at the size of her tummy. In this picture she is disguising her weight in a clementine box. Chole talks and chirps all day long. She also eats until she throws up.
Finally we have Mo, who is a tortishell. When we adopted her she was already named, but I refused to call a cat Maureen, so we shortened it to Mo. She spends her days getting her 22 hours of sleep in anywhere sunshine can be found & hoping her sister Chloe will let her get a bite to eat.
There you have it. Us in all of our glory!