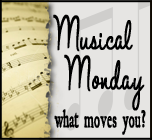 My good friend Diane is taking a little blogging break, so I'm gonna try to keep her Musical Monday meme alive. A power failure here kept me from getting this up earlier, but here goes!
I'm feeling a little "Angry American" today, so I thought a little Toby Keith was in order, "Courtesy of the Red, White & Blue". This is also to honor my "Sunday Friend" Jeannie & her soldier husband.




What's moving you today? Link up & play along.