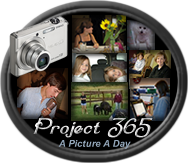 My week captured thru my camera, un-filtered & un-retouched.
Sunday, February 13 ~ Saturday, February 19, 2011
Chloe & Moe. Oskar barked & Chloe startled awake and bumped her head. I think Oskar was secretly amused!
Sunday
My PJ outfit of the week. Gotta love my color and pattern choices, don't you!

Monday
Jack got his first pair of glasses. I love these, they are just so "Jack"!

Tuesday
No pic for Wednesday :-(
Oskar walking in the snirt. That's snow + dirt for you in the warmer climes.

Thursday
Oskar helping John David. John David was not paying attention!

Friday
I got a new season of NCIS today. Best. Show. Ever!

Saturday
Check out the other players over at
Sara's blog.