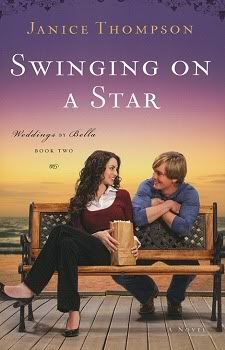 Swinging On A Star by Janice Thompson
Anyone who knows me knows that I read voraciously, which is why I love having the opportunity to review books for Revell, a division of Baker Publishing Group.
Swinging On A Star is the second in the Weddings by Bella series, written by Janice Thompson. Bella Rossi is taking over her familys wedding planning business. I planned and ran weddings for about 5 years at a hotel, so this made it even more fun for me.
The fairy tale wedding that Bella is planning has a requires the building of a castle and it's own Hollywood certified Prince slash hottest available movies star as it's best man. Bella's family is full of characters that are hilarious and loveable, but never too over the top.
The thing that really got me about Swinging On A Star is it's underlying Christian theme. It's part of the core of this book, but not in a way that knocks you over the head. This is a great book that that will take you away and leave you wanting more.
Swinging On A Star is available now at your favoritebookseller from Revell, a division of Baker Publishing Group. Check it out & tell 'em Mimi sent ya!