To get ready for TPN (total parenteral nutrition), or as I will be calling it from here on out, my feed bag, I had something called a PICC line inserted in my arm. This is a more permanent, stable form of IV that goes directly into an artery. There's 2 plugs on the outside of my arm. One for food going in, one for when they draw blood. It looks like this.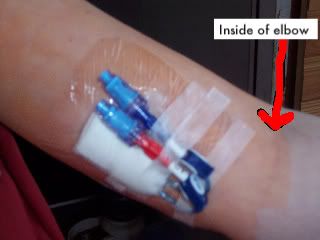 It runs down my arm to the IV pole. I got just liquid for the weekend.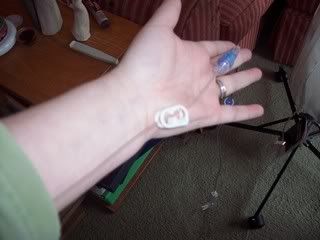 Kitties like IV lines...
Now I've got my feed bag which lives in a handy backpack. On one side is my liquid food, and the little thing on the other side that looks like a "Little Professor" toy is the pump.
Now I just have to remember to grab this thing and take it with me everytime I move. I predict I will forget to to this approximately 2,786 times before it sinks in fully.
I will be posting my One World One Heart winner soon and I've also got some good reviews and giveaways coming up so stay tuned!