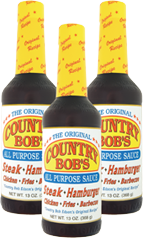 Hello friends! Sorry I've been a bad blogger lately, don't you hate it when life gets in the way of blogging??
I have 2 winners for my Country Bob's All Purpose Sauce giveaway.
SueAnn from SueAnn's Journey and
Natalie, who doesn't have a blog that I can find, lol!
Congratulations ladies, I will be sending you an e-mail today to get your shipping addresses.
Stay tuned to Screaming Mimi, I've got some great books to give away, along with some really cute tote bags!