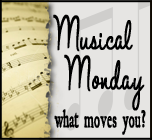 My beautiful friend Diane from
Good Mourning, Glory!
is taking a little bloggy break. Until she's up and running again I'm going to take over hosting duties for Musical Monday.
No theme this week, just show us what's moving you today.

This week I picked Waiting All My Life, by Rascal Flatts. My husband & I were lucky enough to get away this week and we had a chance to fall in love all over again. This song is one that we both love & I hope you enjoy it!