I used to drink. Often. I don't think I was an alcoholic. I didn't need any help to quit. I just needed to be told that one of my health problems was pancreatitis. If I drink I could die. Simple.
Chris has been off on vacation this week so we decided to go camping for a few days. I was worried. When we camp we drink. And I really, really wanted to drink. I was in a manic phase of my bi-polar, which happens very rarely. My manic is full of happiness and chatter. I was happy, but we were camping, so I wanted to drink.
We were driving out of the park to get firewood. Do you know what the closest thing is to the entrance of just about every state park? A party store. Heavy on beer, wine, liquor, ice, firewood and usually bad pizza.
I was going to have to face down a party store & leave it without buying any beer. I so did not need this.
Out of the park we go & onto the main road. What's the first place we see selling firewood? Pizza & Cream. 35 flavors of ice cream and pizza. No beer. Across the street? The Polka Dot Cow. Again pizza and ice cream. No beer. Kitty corner and the last building at the intersection? A sit down restaurant featuring frog legs (blech).
I beleive God knew that I might not be able to stand up to the temptation, so instead of a gas station/party store to buy wood, He gave me ice cream and pizza.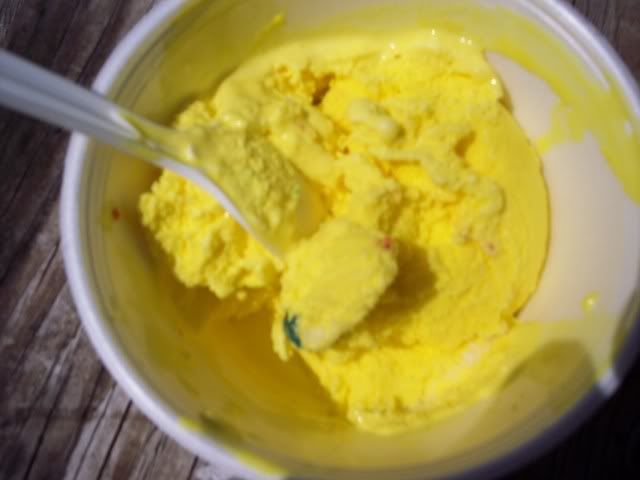 I chose the Play-Doh flavor. Bright yellow vanilla flavored ice cream with bright bits of sugar cookie dough. My happiness remained, my sobriety remained unchallenged and the Play-Doh ice cream rocked.
*
Don't forget to enter my book & totebag giveaway below.