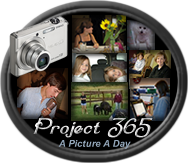 Sunday, May 29 through Saturday, June 4
Sunday:
Chris & Oskar were hanging outside in the gorgeous chairs my dad made for us.
My mom called me Monday morning & said her friend was getting rid of a leather couch a recliner. Our furniture was literally shredded, torn & held together with duct tape. We were thrilled to spend the day off picking up some decent furniture. John David & Chris are relaxing after wrestling furniture for hours in the heat.
Oskar has a new favorite spot on a footstool that came with the furniture. It's perfect for watching out the window. You can see the remnants of our old couch by the curb. Bye-bye horrible, frat house, furniture!
Friday:
One of the few roses that has bloomed so far with all this rain. It's about a day past it's best. Sounds like me, lol!
Oskar & Chris in a pillow pile.
Stop on over to
Sara's blog
to check out all the other 365 participants. It's not too late to join in!