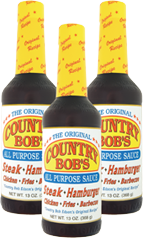 I've been lucky enough to work with Al Malekovic of Coutry Bob's All Purpose Sauce for the past several months. Screaming Mimi readers know that I have a husband and 2 teenage boys. Added to that mix is John's girlfriend Leighanne. What do all these people have in common? They love sauce on their food. Ranch dressing, BBQ sauce, sweet & sour sauce, if I cook it they put sauce on it.


I can say honestly & without reservation that Country Bob's All Purpose Sauce has just about replaced all other sauces in our house. Above is Chris putting Country Bob's on a freezer pizza. Just so you don't think I always make my family eat freezer food, here's Chris putting Country Bob's on take out pizza.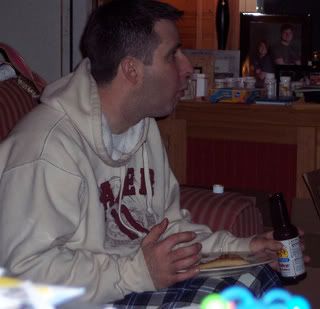 O.K. we do eat real food around here. Here's some yummy pork.
Country Bob's brochure says:
How does anything really good get its start? Where do great products come from? Usually they are the result of much time being exerted and tremendous amount of love being invested. At that point you can say, "That's mine! I made that." That's the way Country Bob Edson created his All Purpose Sauce.
They also list Christ as their CEO.
At our house it goes on everything from burgers to eggs. A little sauce on the burger isn't quite good enough. You have to keep the bottle with you to put some on every bite!


If you open my fridge at any give time you will see this. A bowl of Country Bob's All Purpose Sauce for dipping.
In addition to their All Purpose Sauce, Country Bob's also has a spicy version, seasoning salt, barbeque sauce and a cookbook filled with great recipes.


To find some for yourself go to www.CountryBobs.com or if you're a United States resident leave me a comment here. Two lucky Screaming Mimi readers will win 2 bottles of Country Bob's All Purpose Sauce apiece.
If you're a follower of this blog leave 2 additional comments for a total of 3 possible entries.
Giveaway ends Saturday, May 1st. Make sure you have a way for me to reach you if you win and again this giveaway is open to U.S. residents only.