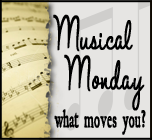 So after having a total brain fart on Musical Monday's for way too long, I'm back. Yes it's a little late in the day, but who could resist this category, Sing Like No One Is Listening! That is totally me!
Yes, I am an old 80's fool who fills my Musical Monday posts with greats like The Cure & The Smiths. What I may not have mentioned is that during my eyebrow-pierced-with-a-safety-pin, Doc-Marten-wearing days I also loved cheesy 80's pop. Yes I had to hide my silent love from my mosh-pit friends, but today I can proclaim it out loud without shame or embarassment.
An 80's pop proclivity does however, make a great format for embarassing your teenage sons in public! So here is one of my favorite sing into the hairbrush songs, Forever, by Kenny Loggins. And yes I do like 'em cheesy.
Check out Diane over at
Good Mourning Glory
to find out what all the cool kids are singing out loud!