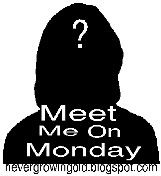 I found a great new meme that I'm going to try out.
Meet Me on Monday
asks 5 questions, then you link up, check each other our & I bet find new friends in the process!
1. Do your pants get hung on a hangar or folded? Folded. Then they stay in the laundry basked, which I live out of until they're dirty when they go...into the laundry basket!
2. If you are stranded on an island, what 3 things would you need to have with you (not including humans or electronic devices)? Books, Diet Pepsi and pen and paper.
3. Where is the farthest you have ever traveled to? I've only been as far as Kansas City. I spent most of my life travelling around Michigan camping in my beautiful state. I would love to travel anywhere, everywhere!!

Oskar & I camping.
4. Do you live in a house, trailer or apartment, etc.? I live in a house.
The view from my desk.
5. What is your most hated household chore? Putting away laundry, see #1.
If you're not doing anything this morning, play along!