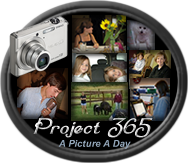 Sunday, April 17 - Saturday, April 23
I didn't take too many picture this week, but here's a look at what I did get! Be warned, it's a little boring this week, lol.
Since the weather forecast called for snow, Chris went out & cut all of our daffodils so they wouldn't die. Even if spring will never come here in Michigan, the flowers makes it feel more springy!

Sunday
And this is what we woke up to on Monday. Enough, I say!

Monday
My friend
Jeannie
who now live in Italy sent me some packaged soups & this authentic Italian minnestrone is fantastic!
Tuesday
Oskar got his first ride in his new car seat. He was less than thrilled, but it's much safer than riding in someone's lap. He does have a pitiful face! It was even more pitiful one he realized he was going to the vet.
Wednesday
Chloe displaying her full figure & laser beam eyes!

Thursday
 No pic for Friday.
Saturday, Chris spoiled me by making me breakfast. I'm a lucky girl!

Saturday
Go visit my friend
Sara
, to see what everyone else was up to this week!