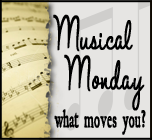 I've said in the past that my musical interests give my husband whiplash. When Chris & I were planning our wedding, we knew what we wanted. Outside, in a park. People barefoot & in shorts. Homemade fried chicken & cupcakes. I walked down a path to the gazebo where Chris waited for me, my boys escorted me.
When we were planning the wedding I told Chris that I wanted to play a John Denver song as I walked to him in the gazebo. The reaction was instant & negative.
At this point I will say that I absolutely adore John Denver & his early death was heartbreaking. Once Chris heard this song, Annie's Song, he agreed that it was perfect.
I've already said that I think that Lovesong by The Cure is one of the best lovesongs ever. Annie's Song by John Denver ranks just as high up there for me.
I couldn't find a good video of him singing the version that I like, but just listen to the words...

For more Musical Monday visit Diane, or Jori.

Come join Music Monday and share your songs with us. One simple rule, leave ONLY the actual post link here. You can grab this code at LJL Please note these links are STRICTLY for Music Monday participants only. All others will be deleted without prejudice.