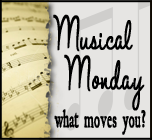 We have been all Beatles, all the time here lately. First JD "discovered" them about a month ago, during our road trip to NC. Now the trickle down theory has let his little brother Jack find them also.
Jack asked me yesterday, "How did I go 13 years without the Beatles? They're totally epic!"
I agree, they're epic. I love this version of The Long & Winding Road. It was released in May of 1970 & was one of the last songs they recorded. Since John left the band in September of 69 & they "officially" announced the breakup in April 1970.
The Beatles recorded "The Long and Winding Road" in January 1969, the day after the group's final performance on the roof of their Apple headquarters. This video features Billy Preson (the fifth Beatle) on the organ and a long shot of Yoko Ono in the middle of the video.
For more Musical Monday visit
Diane
or
Jori
.