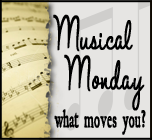 My friends
Diane
&
Jori
host Musical Monday & after missing a couple of weeks, I'm glad to be back in the swing of things.
This week, The Cure, probably my favorite band ever, singing Love Song, probably the best lovesong ever. This isn't the video I wanted, you're not allowed to embed the orginal music video for the song. If you're interested you can find it
here
.
OK, you know what? I'm gonna give you a twofer. I just can't post this without posting the other contender for best lovesong ever, Just Like Heaven. Original video

here.
Sigh. Guess what I'm gonna be listening to for the rest of the day!