OK, maybe this isn't really breaking news, since the story is from 2008, but I just heard about it so I'm bringing it to my loyal Screaming Mimi readers, umm 2 years late.
Anywho,

Taiwan being on the forefront of all things cute have opened a Hello Kitty hospital. Yes that is the nursing staff dressed in the Hello Kitty aprons.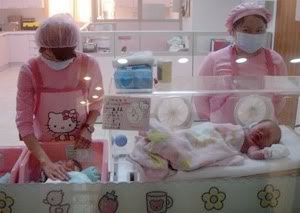 "A Hello Kitty-themed maternity and pediatric hospital has opened in Yuanlin, Taiwan. The small 30-bed facility is authorized by Sanrio."
I don't know if it's fascinating or horrifying, but it's sure different.
This picture and story came from Boing Boing.
This concludes your (old) breaking news for today.