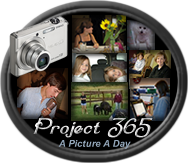 I have to ask for prayers this week. My grandma has entered the hospital for the final time. All they can do now is make her comfortable. I ask for your prayers for a peaceful passing & for comfort in the hearts of my family.
Sunday 7/17 - Saturday 7/23
Sunday
We celebrated Jack's birthday with my parents. My mom
hates
having her picture taken, but she agreed to one.
Monday
Chris hard at work at my computer. He didn't really want his picture taken either, lol.
Tuesday
One of our cats, Moe, sat & stared into the corner for about 15 minutes. She wasn't sleeping, nor was there a bug or anything else there to hold her interest. Mabe she was just amazed at how messy our house is!
I found this one, lone Queen Anne's Lace in the yard. I love Queen Anne's Lace.
Thursday
Oskar trying to stay cool. He usually spends his days patrolling our yard, but this heatwave was even too much for him.
Friday - No picture
Saturday
Chris came home from the Farmer's Market with these flowers for me. He rocks!
For the rest of the Project 365 players, check out
Sara's blog
.