While shopping with my new friend Joy from
Joy To The Blog
we stopped at Michael's Craft Store. (I have recently met 3 great blog friends in the flesh, but I'm saving that for something else.)

Anyway, Joy & I came across these dazzling and sophisticated home decorating items. Behold...




Decorated animals in random costumes. Cow as ballerina with an odd rust color clump of hair, Bull as cowboy, Sheep as a sleepy sheep & Duck as leather biker guy.

This shot is really good because you can see the lovliness of the cow's hair and the idea for more hideousness decorating options.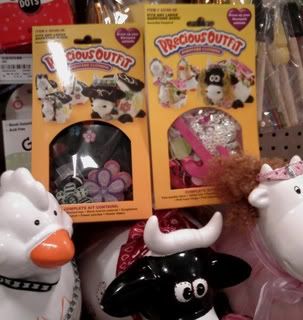 I'll just let this one speak for itself.





Here are more decorating ideas from the kits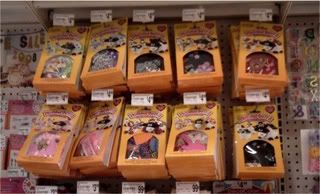 You can buy the blank animals along with a "outfit" kit, but why do that when the ones that are already made up and mangled (the sheep had no eyes) can be your's for a mere $29.99.

I think I know what I'm offering up for my next giveaway!