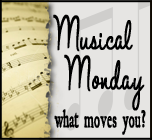 With the passing of John Hughes, I have been hearing lots of great 80's songs from his movies on the radio. If you were in high school in the 80's, or even junior high, you can't hear "Don't You Forget About Me" without flashing back. He picked great songs for his movies and so many of them really represent the 80's.
This song didn't get as much radio play as many others as it wasn't a theme song, butI just love it. It's I Go Crazy, by Flesh For Lulu, off of the Some Kind of Wonderful soundtrack.
I couldn't find the radio version, so skip ahead to about the 1:20 mark if you want to hear the song with out the looong intro that this version has.
*

(If you're interested in a notecard/stationary swap on Swap-bot, see the post below this one!)