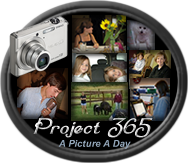 Here's my week in pictures:
Sunday, January 9 ~ Saturday, January 15, 2011
Time for my beloved Christmas quilt to be packed away. While part of me wants to use it all the time, another part likes that it's something to look forward to.
Sunday
Oskar re-arranged the garbage for me!

Monday
My mom-van ran out of gas in my neighborhood. Guess who didn't have their cell phone & had to trudge through the snow for a gas can!

Tuesday
A meeting with my Dr. to deal with my bi-polar & gastroparesis. We're adjusting my meds a bit so I've been a little tweaky this week. I'm hoping it will settle down by next week & so is my family, lol!

Wednesday
Here is a typical serving size when I eat. This was some turkey (about 2 oz.) and trimmings. I
try
to eat 3 times a day, but it doesn't always work out that way.

Thursday
 My Hope corner. It's right next to my computer for a smile and some hope anytime I need it.

Friday
 Oskar is unhappy with the Christmas quilt being gone, but you can see he's making due with the snowman quilt!

Sunday
It's not too late to join Project 365. I was nervous to join because my photo skills are rudimentary and my life isn't very exciting, lol! I can tell you that everyone involved is really welcoming and nice. Go see
Sara
to check out the rest of the Project 365 participants.