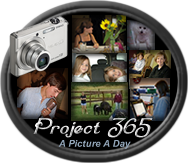 My week captured thru my camera, un-filtered & un-retouched.
Sunday, January 23 ~ Saturday, January 29, 2011
This was my Wordless Wednesday post. Sad to realize that I was feeling no joy. It's getting better, I'm glad to report.
Sunday
The reason I should never polish my nails! Once it starts wearing off, I'm too lazy to take it off & then it looks tacky.

Monday
Oskar & Chloe sharing the space heater.

Tuesday
My drawer full of drugs I've tried for my gastroparesis and bi-polar. Some good, some bad, but none just right yet.

Wednesday
A wonderful sample pack from Newman's Own Organics pet food products. I've been researching higher quality foods to feed him and have been working with a lot of great companies and due to my pet blogging we've received many great brands to try out & report back on.

Thursday
Ooh, I got hit with a case of the sick on Friday night. I spent most of my time here, moaning & whining!

Friday
Chris looking goofy while grilling us up a nice batch of chicken. I love that he makes such wonderful food for me, he's a fantastic cook!
Saturday
I love this project & it's not to late to join
Sara
for Project 365!