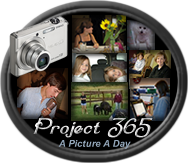 My week captured thru my camera, un-filtered & un-retouched.
Sunday, January 16 ~ Saturday, January 22, 2011
On Sunday Chris decided to get out the Weber and make some chicken wings in the snow. I was visually pleased by the assortment of
Buffalo Wild Wings
sauces we have amassed. As any blogger mom knows my family moaned while they waited to eat and I had to line up the sauces for my 365 photo!

Sunday
My son Jack. He insisted that I take this picture and dared me to post it. Here you go Jack, lol!

Monday
Oskar enjoys the re-hydrated food he's sampling from
The Honest Kitchen
. It's used as a "topper" or suplement to his regular food. (I added pieces of chicken to the plate also)

Tuesday
Cookie dough. Cooking it is overrated.

Wednesday
Proof that there is
some
level of organization happening here!

Thursday
11 degree weather & warm
Diet Pepsi
makes for a fun Oskar fountain.

Friday
Chris made us this pizza from scratch, damn it was good!


Saturday
I love this project & it's not to late to join
Sara
for Project 365!
*While you're here don't forget to enter my
Stride Panties giveaway
, 2 winners, open worldwide!