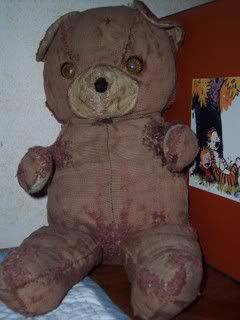 This is Mr. Bear, my first best friend. He has been with me since I was 6 months old.
This is one of my favorite Lolcats. Do you notice the resemblence! Now I realize that Mr. Eye Bear & Mr. Bear are not twins, but I do think Mr. Eye Bear could be Mr. Bear's brother. At least a cousin.
I must tell you that they would have more of a resemblence if Mr. Bear had more of his fur. Due to unfortunate accident that left him with many broken bones, he was required to wear a body cast made out of orange floral shelf paper. The adhesive kind. (I do not want any snickers about my my childhood imagination. I'm an only child. It was lonely.) Once his body cast was removed we, Mr. Bear & I, were dismayed to find that the only real fur remaining was at the top of his legs, right below his butt. I tried to take a picutre for demonstration, but Mr. Bear balked at having his tushie all over the internet. Pictures like that can really hurt a persons career.