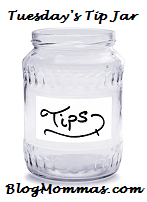 My tip is a little gross, but it works! I was inspired by Mimi over at
He and Me + 3
to put up a stain removing tip.
If you get a blood stain on fabric, I always end up with marks on the legs of my pants when I shave, spit on it! Yep, you heard me, spit! Something about each persons unique enzymes, blah, blah (insert actual science stuff here.)
The only way it works is if the bleeder is also the spitter. My sons thought I was crazy the first time I told them to spit on their clothes, but now they just write if off as one of the ways I'm "different from other moms." I choose to take that as a compliment, by the way.