Dear Ms. Fierce,
I realize that as a star it must be difficult for you to decide what to be called. When one is a fabulous as you are you can't really be limited to one name, like Beyonce. I did want to inquire as to whether or not you considered the name Desperate Annoying? Hmm, did I type that out loud?
I was lucky enough to go to
http://whoissashafierce.com/
so I could guess who Sasha Fierce reallly is. The thought of winning a personal message from you, Sasha & a $500 giftbag set me all aquiver. I can only hope that the gift bag contains clothes from Beyonce's 'House of Dereon'

clothing line.
These stunning examples have me hoping I will be the lucky woman picked.


Obviously I would be proud to wear these jeans & shoes while I run my daily errands! Nothing says HOT like jeans up to your boobs!
On days whenputting on a shirt & pants just seems like too much work, I found this lovely jumpsuit. I'm sure to be the star of the PTA meeting in this!
And finally, for the little ones, there are these adorable outfits. Nothing screams 'great mom' like dressing your daughter up like a street walker.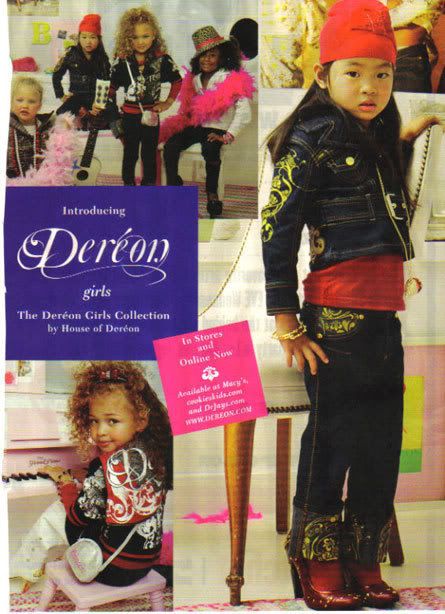 The read spiked heels on the girl in the red hat would make great church shoes, don't ya thing? By the way did you have your ad people apply those little girls makeup with a trowel? Little girls today really should start looking like a desperate pop star as soon as possible. Woe is me for only giving birth to boys.
Anywho, things have been a little boring around my humble abode. I think I may just go by Trixie Vyxsyn from now on. Now I just have to make mediocre albums and cheap looking clothing & I'll be all set.
Sincerely,