Outside My Window...

A grey cool day & a lot of yardwork that I've been ignoring!



I am thinking...

About getting back to school after having my gall bladder out.



I am thankful for... A roof over my head & food in my belly.

From the kitchen... Jack want's Spam for dinner, so Spam it is!

I am wearing... Dk. gray fuzzy sweatpants & a longsleeved sage green t-shirt that says "chill".

I am creating...
A new work space.



I am going...

Nowhere but to pick up the boys from school later.



I am reading... The Last Of The Husbandmen.

I am hoping... For a windfall.

I am hearing... The cats, Chloe & Moe wrestling & playing chase.

Around the house... Getting my office/school area up to par.

One of my favorite things... Sleeping!

A Few Plans For The Rest Of The Week... Getting caught up on school & lunch with my friend Jan on Wed.

Here is picture thought I am sharing...

Chloe making herself at home on Jacks new winter coat.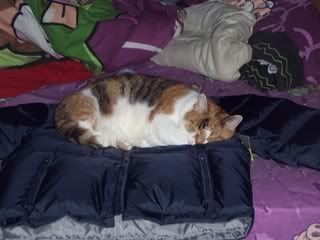 Thank you to Peggy at ~The Simple Woman~ for this great daybook idea. You can visit her here
http://thesimplewoman.blogspot.com/