My friend Carey over at Life In The Carpool Lane introduced me to the Bloggy County Fair going on over at Art's Chili.
To quote the fair posts at Art's Chili:
"I have seen so much creativity in blog world! Photography, knitting, crafting, sewing, canning, drawing, painting, poetry, carpentry, decorating, furniture refinishing, cross stitching, building, table setting, flower arranging, gardening, embroidery, pickling, baking and the list goes on and on. Now is your chance to showcase your talents!"
You can submit your entry to the fair by posting it on your blog and then linking up.
I have been busy putting up tomatoes & cutting, scraping & freezing corn. My mom is one of 9 children & my uncle and grandpa have a huge farm that they plant every year. Then come the end of summer we have more tomatoes than you can imagine and we spend a couple of weeks canning them. By mid September we are so sick of tomatoes & corn we can't stand it, but it's all worth it when we get fresh tomato taste for all of our soups, stews & pasta sauces all winter long.

So here's my canning entry.
If you've never just sat down in the winter and had stewed tomatoes & toast for dinner, then you're really missing out!
I also thought I'd enter a couple shots in the photography category. Some of you may have seen a couple of these shots before, but that was before they were fair entries!
A happy sunflower face.
Here's my version of Van Gough's Sunflowers.
And last, but not least, Inchie the inchworm.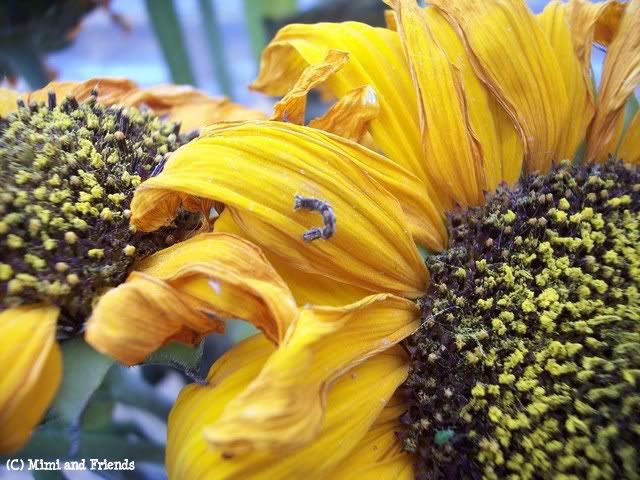 Make your own fair entry & post it here!