Hi guys!
It seems like I've been gone forever. Chris & I celebrated our 6th wedding anniversay and took a mini vacation to Frankenmuth Michigan. It's Michigan's "Little Bavaria" and has lots of charm & character. My husband is 100% German and one of the main hotels even has a room named after his family.
We stopped by to visit one of his relatives.
Here we are in front a pig. I'm not sure why he's there, but he must be German.
We alway have to go to Wily's Sausage shop so my husband can get an assortment of "wurst" or German sausage. This is only about 1/3 of the kinds of sausages they had in that store. They also sell frozen buffalo hearts, so let me know if you need me to send you some *shudder*
Here are some pics of some of the cute buildings around town.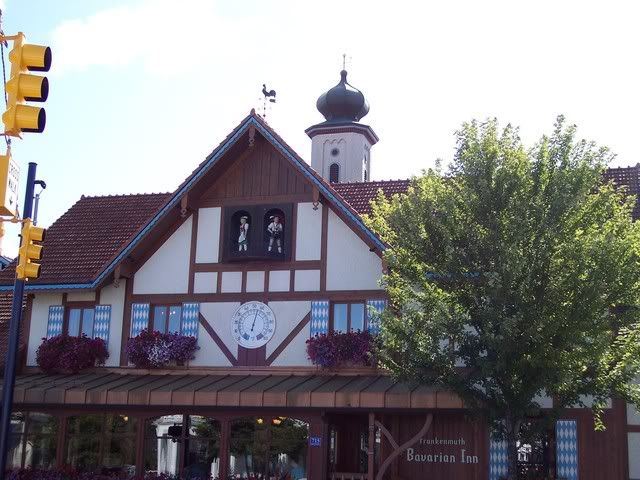 Frankenmuth is world famous for their fried chicken & I love this old sign that still stands in front of my favorite restaurant in town.
There's lots more pics that I wanted to share with you, but Photobucket isn't cooperating AT ALL!
Well, as often happens, when we got home on Sunday life handed us a big slice of sh!t pie, so I was just feeling sorry for myself the last couple of days & did feel like posting.
I do have lots more pics to share with you from the 2 acre Christmas store & the cool old cemetary, so you'll get to see more of our adventure.