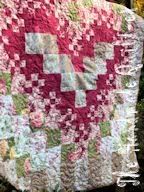 A fantastic hand-made quilt like this could be yours! FREE!
Abbie over at The Handmade Quilt-er is giving away a quilt like this to one lucky reader.
Abbie made the quilt pictured above for a neighbor who donated her bone-marrow to a stranger. She was so moved she decided to give away a second quilt to a reader from her blog. So stop by The Handmade Quilt-er today to tell Abbie how beautiful her work is & to register for a chance to win a quilt for yourself.
I guess I should say good luck to you, but our Michigan winters are really cold & I sure would like to be the winner snuggled up under this quilt. If you win, drop me a line. Maybe I could snuggle under it when your not using it! *wink*