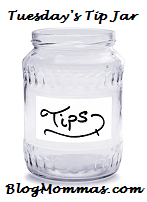 My tip this week is to find great ways to make homemade gifts for the holidays. I have a book that has all kinds of great recipes that you make up in advance, like bean soup, or dip mix, and then give with the recipe for completing the dish. Years like this when the economy is so bad being able to give a nice homemade gift is really worth the time to check it out.
You can also find the books at your local library. The Perfect Mix is one that I bought years ago & absolutely love.
Check out http://www.blogmommas.com/ for more from Tuesday's Tip Jar.