Well I was released from the hospital on Wednesday and had to return on Friday. Chris & I splurged and went out to Red Lobster for dinner on Friday and got a big platter of fried fishy goodness. Well I knew that alcohol irritates pancreatitis (I can never drink again), but I didn't know that grease, or more specifically greasy & fried food also irritate pancreatitis. So back to the hospital I went. No real fun stories this time, just lots of sucking!
I was bored last night, halloween, so I took pictures to share with my friends. This first one is hideous, but I promised myself I would post it no matter how bad it turned out & it turned out BAD. My hair isn't greasy, it's wet from a shower.
The view from my bed, the TV and my little board telling who my nurses, etc are for the day. The TV is supposed to work as a computer, but the system was down while I was there, so no crazed dilaudid induced posts for you!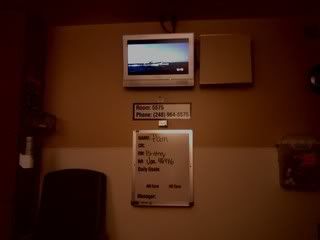 "Boo" the stuffed kitty that Chris brought me, because he knew I was sad.
The mess of stuff on my bed to try to keep me occupied, since I couldn't use the hospital computer thingie & I didn't have a book to read.
My I.V. painfully taped to my arm.
My bed. That's the one thing I love about the hospital, besides the fun drugs. I love those beds that you can make go in a zillion different comfortable positions.
That's about it, now you can feel like you visited me in the hospital. I'm sure you all wanted to, lol. Not a very exciting post, but it is what my life has been like this week and the blog is about my life, right?
It's good to be home & I'm going to spend this evening catching up on all of my friends blogs & seeing what you guys have been up to!