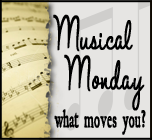 *There are 2 Musical Monday posts this week. This one I scheduled ahead and forgot about & the one below this, I did for the Coexist celebration, so go ahead and listen to both of them!
I just did an 80's post last week, but I came across this Culture Club song that I just love. I don't think it was released as a single so you might not have heard it. Check it out.



Boy George may be off the rails in real life, but he's got some great pipes.

Check out more Musical Monday with Diane and Jori.