Friday I decided that my youngest son & I needed to spend some time together. I knew they weren't doing much in school that day, so I went and picked him up at 10:00.
From there we went to see the Michael Jackson movie, This Is It. We both left the movie theater feeling sad, but the movie was, IMHO, quite good. It brought things back to him as a performer and let me tell you the moves and the voice were still there. I don't see how he could have possibly been on all the drugs they say he was on and still come across as well as he does on screen.
The his singing and his dancing really take the focus off of his messed up face and showed him as a great performer. In the end we were sad that his life had been cut so short. (In case your wondering, I do not believe he molested children, I think he was a weird, emotionally warped man.)
Anywho, after the movie we went to K-Mart and bought Jack some new pajama pants & his favorite for dinner, Spam! We got some chili dogs for lunch, picked him up a video game from Blockbuster and came home. Now he's on the couch playing his game in his new PJ pants just waiting for his Spam feast later (gag).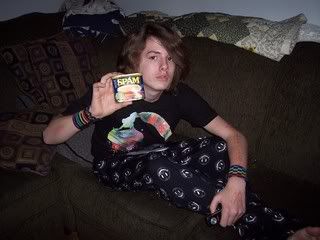 In case you can't tell, he didn't want to have his picture taken, lol!
If none of you have never had a hooky day with your kids I highly recommend it. It's great special time that Jack knows I set aside just for him and him alone. My friend Mimi at
He & Me + 3
does a weekly "You're Gonna Miss This Post" about things she's going to miss about her kids. Every single week what she posts is something I already miss with my boys both being teenagers, so I'm taking as much time as I can to be with them now, before their completely gone!