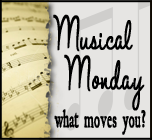 This week's theme for Musical Monday is best & worst of the 80's.
For the worst I have to pick Get Out Of My Dreams, Get Into My Car, by Billy Ocean. Just terrible.
For the best is one that I'm sure I shared here before, but it is one of my favorite songs of all time, not just the 80's. The Cure, Just Like Heaven. Best. Song. Ever.