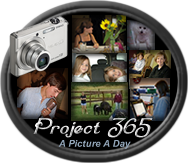 My week captured thru my camera, un-filtered & un-retouched.
Sunday, March 13 ~ Saturday, March 19, 2011
For Breakfast I made myself a shake with coffee, frozen vanilla yogurt & chocolate sauce, yummy!

Sunday
John David brought his pet rats home for a visit. They live with his friends, cause Oskar & the cats heads would explode if they lived here. They are pretty cute at this age, but they will get bigger!

Phillip
Quorra - Monday
Jack, being Jack!

Tuesday
Hope that spring is actually coming.

Wednesday
Chloe enjoying her new window seat. We put a birdfeeder right outside the window for bird-TV.

Thursday
My poor desk needs a major cleaning, I just can't seem to get it started.

Friday
We had no power for most of Saturday, so Chloe helped Crhis read a book.

Saturday
Hop over to
Sara's blog
to find out what all the other players were up to this week.