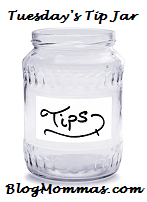 Get out your check book right now & write 2009 on all of the checks left. If there are only a few left write them on the next set, too. If you give someone a check today or tomorrow that says 2009 they will still accept it.
For more Tuesday's Tip Jar check out Blog Mommas.
*Note: Blog Mommas isn't doing Tip Jar Tuesday, but I'll leave mine up anyway!