I got a wonderful blog award from Mimi over at He & Me + 3. Mimi is someone who dropped into my life thru the blogosphere & she has been bringing a little sunshine into my days ever since. Mimi is a fellow believer, an awesome photographer, and a mom to 3 pretty gorgeous kids. She's got a great name too!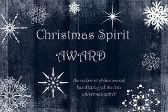 The Rules are simple:

You must be a true Christmas lover to receive this award.

The person to whom you give the award must also be in love with Christmas.

You must link back to the person who gave you the award.

You must list 5 things that you love about Christmas.

If you can't limit it to 5 things, then keep going till you run out of space! :o)

Pass the award along to as many people as you like. That can be 1 or 45; it's up to you. But, you must pass it on to at least one person in order to keep the Christmas cheer going!

Let your recipients know that you have tagged them by leaving them a comment on their blog.

Things I Love About Christmas

1. Celebrating the birth of the Christ child

2. Quiet moments that I get to steal with family

3. Decorating the tree

4. Giving presents

5. Getting presents

6. Seeing relatives that I don't get to see enough

7. Listening to the CD's Elvis Sings The Wonderful World of Christmas & A Christmas Together: John Denver and the Muppets

8. Memories

9. Food

10. Sitting in a dark room & looking at the lights on the tree

Now I get to tag people!

I pick:
Denise from Sunflowers, Chocolate, and Little Boys. As soon as I saw the name of her blog listing 3 of my favorite things in the world, I knew we would click.
Jenn at Delightfully Cliche. Hopefully she can get to this after she gets caught up on her rest!
Janah at So Not Mom-a-licious. Life's been tricky in her neck of the woods, but she still makes me laugh.
Finally Victoria at Vicupdates. She's a 17 year-old living with Lyme disease and she totally has Christmas spirit.