Somehow I have not been posting awards that my lovely blogging friends have been giving to me. I swear I had a nice post about them, but poof it's gone. I may dig them out over the next month or so, so that I can hand out some bloggy love!

I've gotten 3 nice awards lately.

From Denise at
Sunflowers, Chocolate & Little Boys
,
I received this sparkly fun Queen award.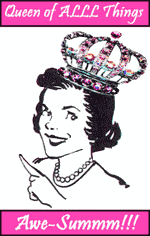 Here's what it says:

List 7 things that make you Awe-Summ and then pass the award on to 7 bloggers you love.Make sure to tag your recipients and let them know they have won!Also link back to the Queen that tagged you.You can copy the picture of the award and put it on your sideboard letting the whole world know.....YOU are The Queen of Alll Things Awe-Summm!

1. I am a great mother.

2. I am pretty funny in person.

3. If I love you, that's it. Your doomed to have me love you forever!

4. I'm a good writer.

5. I'm very crafty.

6. I'm a good cook.

7. I can set up a 10 person tent, alone!


That really is harder than it looks!

I'm gonna send this on to:

Diane at
Good Mourning Glory
Mimi at
He & Me + 3
Joy at
Joy To The Blog
Shauna at
So Not Mom-A-Licious
Tamy at
3 Sides of Crazy
Jeannie at
Jeannie's Happy World
Alicia at
Confessions of a Snowflake


I love this from Carey at Life in the Carpool Lane. She gave out an "I Respect My Mama" award. Carey did a great job promoting living green during Earth Week, so thank you Carey for passing this one on to me!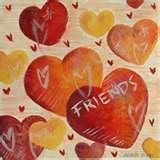 Last but totally not least is the Let's Be Friends Award, from Brittany at Food For Thought. She is one of my new bloggy friends & I really appreciate her reaching out with this sweet award.
"The Let's be Friends" award stands for this: These blogs are exceedingly charming. These kind of bloggers aim to find and be friends. They are not interested in self-aggrandizement. Our hope is that when the ribbons of these prizes are cut, even more friendships are propagated.Please give more attention to these writers. Deliver this award to eight bloggers."
So this one's for
April at April Showers
Jessica at Pudget
Carey at Life in the Carpool Lane
Deb at Sweet Tea
Mrs. M at I've Changed My Name To Mommy
Kim at The Un-gourmet
Karen at Still Magnolia

These are ladies I've just started to get to know & look forward to learning more about!