Heidi at
Sacred and Profane
tagged me with 3 tags.
First 8 things.
8 Things I Am Looking Forward to:
1. Meeting Diane this afternoon!
2. Smelling a campfire for the first time this season.
3. Getting my ATC blanks in the mail, so I can start to play.
4. My student loan coming in so I can get a notebook or laptop. If you know what the difference is between these two will ya let me know?
5. JD starting his weekend job this Saturday.
6. Meeting

Joy

next week.
7. Reading Created To Be His Help Meet.
8. Drawing a name for my Ecostore USA giveaway.
8 Things I Did Yesterday:
1. Picked Jack up at school after he puked 8 times. He's very proud that the whole school knows that he ralphed so much.
2. Put some collage sheets on my Etsy page.
3. Updated blogs.
4. Made dinner that JD didn't like.
5. Talked my ex-husband, Asshat, into bringing me a sandwich from Big Boy after he had lunch with JD.
6. School work, Psychology of Death & Dying. A real laugh a minute.
7. Tried to match plastic storage containers to lids & gave up.
8. Watched Bones.
8 Things I Wish I Could Do:
1. Go camping
2. Buy a bigger house.
3. Win the lotto, so Chris could quit his job.
4. Upgrade all of our computers.
5. Go to Disneyland. (I've never been)
6. Shut my brain off so I could fall back asleep when I wake up at 3:00 am.
7. Write a book.
8. Feel healthy.
8 Shows I Watch:
1. NCIS
2. Survivor
3. Criminal Minds
4. Without A Trace
5. Bones
6. CSI: New York
7. The Amazing Race
8. Hell's Kitchen
*~*~*~*~*~*~*~*~*~*~*~*~*~*~*~*~*~*~*~*
Post A Picture Of Myself
Here are the rules: Take a picture of yourself right now. No primping or preparing. Just snap a picture & load it onto your blog.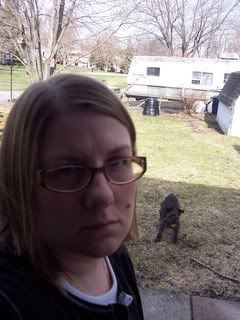 Eek, I look mad, but I'm just trying to think of the right face to make to not look stupid (fail). You can see Mr. Oskar wanting to play ball behind me.
There's also a prom tag, but I never went to a prom *sob* & I can't find any of my rad homecoming pics. You're missing puffy sleeves, drop waist & big hair.
Now I'm going to be lame, but I like everyone to play. If you've got time do one or all of these tags & let me know so I can check out your answers & spurr of the moment pic. Hopefully I can see your prom embarassment, too!