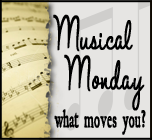 This is an Randy Travis song that Carrie Underwood has started singing. When he heard her sing it, he told her the song was hers. He thought her version was that good.
Even if you're not big on country music, give it a listen. Randy & Carrie sang it as a duet on American Idol. I love the look on Randy's face as he watches her singing her parts, she kills it.
When you end up liking this song, I'll say "I Told You So".