Recently I was lucky enough to be contacted by Melissa from
Ecostore USA
. She told me about their fantastic products.

Here's a quote from Melissa, "I represent www.ecostoreusa.com which is an extension of a 20 year old New Zealand company www.ecostore.co.nz that makes plant based, non-toxic Household Cleaning, Baby and Personal Care Products that contain No Nasty Chemicals(tm)."

She knows that the "mom blogger" market loves the idea of No Nasty Chemicals(tm) for their families.

She sent me some products that I was glad to try.

First off I got the Naturally Antibacterial Spray Cleaner. How cool is that? It's antibacterial without all those lab made ingredients. This is citrus based. I have to admit I was skeptical. I won't promote something if it doesn't work well and I was worried that without all the super-duper lab chemicals it wouldn't work.

I first used it on my countertop. It cleaned it well, smelled nice & didn't leave any film or anything on the counter you could feel. My son went to make a PB&J right after & I started to tell him not to put it on the countertop I had just cleaned, but then I remembered it was O.K. No Nasty Chemicals(tm).

I was ready to tackle the big stuff, so I tested it on my stove top the morning after my 17 year old son JD helped out by making dinner. I was a little worried. This had all night to solidify. (Yuck)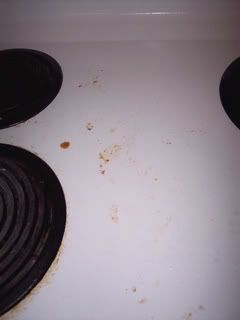 I sprayed on the Naturally Antibacterial Spray Cleaner & grabbed some paper towels. Honestly, just a couple of wipes & this is what my stovetop looked like.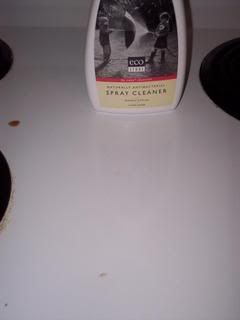 It worked like a dream! Now the big spot that was left I actually had to chisel off with a knife, nothing would have removed that. The other marks on the stove are dents.

She also sent me Plant Based Toilet Cleaner. I didn't take any pictures of that process (you're welcome). Those who read regularly know that I share one bathroom with my husband & 2 teenage sons. Let me just say the Plant Based Toilet Cleaner worked like a dream. Just squeeze it on, spread it around evenly & let it work for several minutes & clean off.
And guess what? I did't have to open the window like I ususally do. The smell of the
Ecostore USA
Plant Based Toilet Cleaner didn't make my sinus cavites feel like they were on fire, like most bathroom cleaners. I used the Naturally Antibacterial Spray Cleaner on the sink & tub & away I went.

Now Melissa, being the savvy woman she is, recognized that my miniature schnauzer Oskar has a large & loyal following, so she sent a couple of items from the Eco4Pets line. Oskar got Herbal Fresh All Natural Shampoo & All Natural Leave-in Conditioner. Go
here
for his review.

I can tell you with 100% honesty that we have never used a product on Oskar that worked this well & left his fur nice for this long. Even when he goes to the groomer!


Ecostore USA
is an e-commerce site, but they have an exclusive partnership with Meijer & have just hit the shelves in all 189 stores, so you can pick their products up there.

Now, what's in it for you? I am giving away a $25.00 gift Certificate to one lucky reader to
Ecostore USA
. This giveaway is open to US residents only.

Here are the ways to enter.

First visit
Ecostore USA
and come back here & tell me one product you would like to try. This entry is required for any other entries to be valid.

Additional entries, leave an comment for each thing you do.

*Visit Oskar's blog & read his product review. Leave a comment there. One additional entry.

*Follow any or all of my 4 blogs (see buttons on the sidebar). One entry for each blog you follow.

*Tweet about this giveawy & leave me the link in the comments. One additional entry.
* Visit my Etsy store & come back & tell me your favorite set of cards. One additional entry.

*Blog about this giveaway for 3 additional entries. Leave me a link in the comments.
Oops, I guess I should list a closing date! This contest will end at midnight on Wed. April 15th.