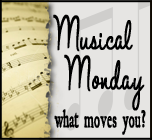 As a teen from the 80's there are about a million classics that spring to mind. I chose Tempted by Squeeze from the movie Reality Bites. There's tons of great songs on that soundtrack.
The real video is

here
but embedding is disabled, so here's one without the video.
For more Musical Monday visit
Diane
or
Jori.