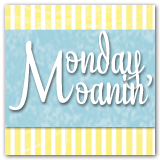 Time for another Monday Moanin'. My hope for Monday Moanin' is to get all of the crap out there on the table so hopefully we can move on with our week.
Grab a button & play along!
The insurance settlement came in for our car, not nearly enough to get another car. At least we're done with the insurance company.
I've got to go to my Dr. this morning. He's a great doctor who spends lots of time with his patients, but you have to wait at least an hour past your appointment time. If he wasn't the only person I've found who could control both my gastroparesis, and my bi-polar, I'd leave him in a minute.
If I hear that Train song Hey Soul Sister on one more commercial I'm going to throw something. I like the song, but the commercials have ruined it for me.
We ran out of candy last night for Trick or Treating. I left Chris in charge of buying the candy & can't complain about it though.
I can't find anything that I can eat. I can't force down food that I don't want, I throw up. My brain keeps telling me that I need to eat, but nothing is working.
Today is the start of NoBloPoMo, so wish me luck!
Powered by Linky Tools
Click here
to enter your link and view this Linky Tools list...