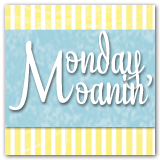 Hey, I got nothin' to moan about today! How fantastic is that?
I had coffee & chocolate cake for breakfast, got my first post published on
Teen Bookshelf
, a Young Adult book review blog that I contribute to & I'm here alone in a quiet house.
Also, even though I had a lot of stomach pain this weekend, I was able to treat it myself and avoid hospitalization! Always a great thing.
What's your Monday like?