If you've been a reader of Screaming Mimi for any amount of time, you know that I sign my posts like this: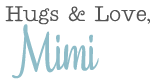 I also sign many of my comments that I leave on other blogs the exact same way.
Apparently some
Anonymous
person thinks that this is phony. I couldn't possibly "love" the people who read my blog.
You know what I say to you
Anonymous
? Screw you!
My blog has been a place where I have met amazing friends. Some that I've met, some that I haven't. Some people may stumble onto my blog without me ever even knowing it. But you know what? I wish those people love and would probably hug most of them if I could.
I'm sorry,
Anonymous
, that you have a small life with nothing to do but leave negative comments on other people's blogs. I'm sorry that the simple words "hugs & love" on the screen somehow make you feel uncomfortable. I'm sorry because you're probably not a very happy person, but I'm not sorry & I will not be changing how I sign my posts or my comments. So just for you,
Anonymous
,