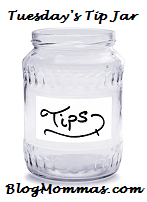 At holiday time there are often ham and turkey carcasses left over after the yummy meals. I bring these home & use them to make homemade stock.
Cover your meat bone with water, add a small quartered onion, a couple of broken carrots & a couple of broken sticks of celery. You want to clean your veggies, but you don't need to peel them at all. Simmer for about 2 hourse uncovered.
Skim out all veggies & bones then pour stock thru a cheesecloth lined strainer. If you don't have cheesecloth you can use a nice clean kitchen towel, just make sure it's not a fuzzy one! I freeze my stock in 1 & 2 cup amounts to use in my soups.
It's really not a lot of work & the taste of homemade stock is totaly worth it!
For more Tuesday's Tip Jar, check out Blog Mommas.
**I'd like to invite all of my Tuesday Tip Jar friends to stop by my Devotional Daze blog to enter my Inspiration Giveaway. Today is the last day to enter!