The oldest pet here in Mimi-ville is Chloe. Say hello Chloe.
Chloe is fat full-figured. I, myself, happen to be on the plump side. I was very skinny (size 0 or 2) up until I got pregnant for the first time. I am still struggling to lose that baby weight. (
Yes it does too, still count even if my first baby is almost 17!)
There is not a day when I do not realize that I am chubby. Chloe on the other hand seems to have no issues with her size. She is quite good at wedging herself into things that are really too small for her.
I hate having my picture taken if I think I will look fat. As you can see, Chloe has no issues exposing her shortcomings, or largecomings as this photo with her belly shows!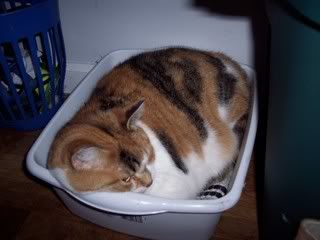 She is so unfazed, she just went back to her rigorous schedule of napping.
O.K., cute chubby kitten aside, what is my point, you may be asking...
My point is this. While I realize that Chloe is a cat with the brain the size of a walnut, a lot of us can probably learn something from her. At 41 years old, I can count the number of times I have ever been happy with my body on one hand.
When I was a size 2 who could eat everything in sight with not consequences, I was not happy because I had small boobs & no real curves. I so wanted to have cleavage to show off. When I went up to a size 10, I was apalled at my fatness. Now at a 16 I would gnaw off a couple of toes to go back to a 10 & be sag-free.
Chloe is happy with herself just as she is. She has not wasted years of her life always feeling badly about herself. Maybe we should all try to learn a lesson from Chloe!