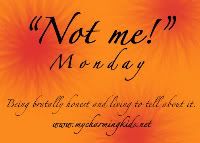 I did not force my son to help me make a bucket brigade of hot water to free my pot of soup that was frozen on the patio.

I did not make my cat wear a sweatshirt that I knew she would hate, just because I knew it would make me laugh.
I am not so addicted to blogging that I started a third blog...for my dog...
My husband in no way understands how this male lion feels.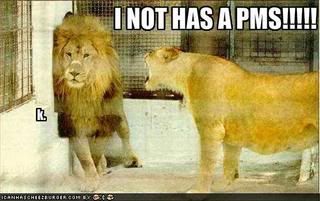 I did not fling down & then stomp on a whole stack of paper plates because they are so glued together you cannot seperate them. This would set a bad example for the children.
I did not laugh in my 16 yr. old's face when he tried to broach the subject of a spring break trip to Florida. Okay, I'm lying, I totally laughed in his face, I'm still laughing, BaaaaaHahahahahaha!
I did not spend over $30 on re-usable shopping bags only to leave them in the van every single time I go shopping.
For more "Not Me Monday" check out MckMamma's Blog.