This is what the inside of my bathroom currently looks like. Now I should mention, that when I say "my bathroom" I don't mean my personal bathroom. I mean the one bathroom that we have in this house. The one bathroom that I have to share with 2 teenage boys & my husband.
The good news is that as our Christmas present my dad is paying to update our one sad bathroom. The bad news is that my hubby & dad are doing it themselves. They are wonderful men who I love immensely. These are men who should never, ever be allowed to attempt any plumbing work.
Jack fled the house last night at 10:00 p.m. He called his dad, Asshat
, and complained that they would be starting on the bathroom at the unheard of hour of 8:00 a.m. Fearing that this would disturb his vacation sleeping-in time he was gone in a flash.
John is stuck here. We let him know that his 6 ft. tall teenage strength may be required. He said bad words.
Now that the tub & surround are ripped out, my workers have discovered that all of the plumbing needs to be changed. They are still planning on doing it themselves. *whimper*
If any of my Michigan bloggy friends want some company this weekend, just let me know. I may be a little smelly from lack of shower, but I fear the testosterone/frustration level around here may be more than I can handle! *help me*
*Update #1 - This is a piece of the bathroom wall that is currently sitting in my living room.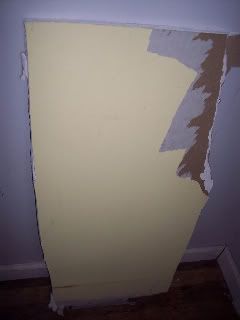 This particular wall was scheduled only for painting, not demolition. Perhaps the thinking is that it will be easier to paint this way. *sigh*
Update #2 -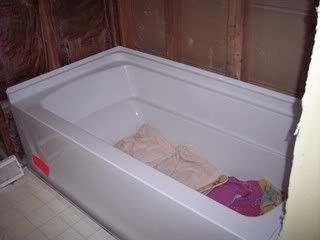 My new tub is set into place. It's extra deep, I'm SO excited. No jets, but I'm thankful for what I've got.
On the negative side, my dad's patience is wearing thin & they are only about 1/3 of the way through the project...
Update #3 - Eek! Chris is currently sitting in the living room using a small blow torch to do some type of welding. I'm not too comfortable with the words blow torch & living room being so close together! My dad has gone home for the night & Chris plows forward with the plumbing. Please pray for him to have steady hands so my couch does not ignite!
Update #4 - Thankfully my couch is flame free. I love how Chris looks like he's in jail here!